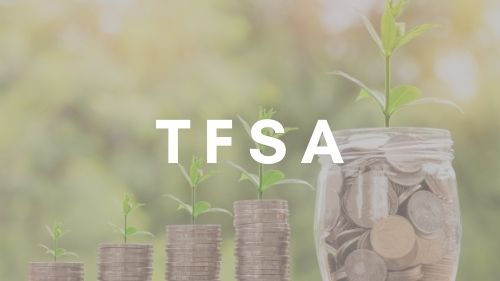 What is a Tax-Free Savings Account? 2022
Learn everything you need to know about tax-free savings accounts, commonly referred to as TFSAs.
What is a TFSA?
A TFSA is a registered savings or investment account, where you do not have to pay any taxes on your gains,
including interest or capital gains earned or Canadian dividends paid.
How does a TFSA work?
You can open a TFSA once you turn 18 and contribute up to the maximum amount allowed each year. You can withdraw
your money at any time without paying a penalty or any taxes.
TFSA Basics
The most important things you need to know about a TFSA are:
The contribution room rolls over each year, so if you don't have enough each year to max out your TFSA, you won't lose your contribution room.

The Canadian Revenue Agency tracks your contributions.

You can hold a variety of investments in your TFSA, including mutual funds, ETFs, stocks, bonds, and cash.

Withdrawals made from your TFSA will only be added back to your TFSA contribution room at the beginning of the following year.

You do not need to have earned income to be eligible to contribute to a TFSA.

You can transfer funds between TFSAs without it counting as a contribution.
Advantages
One of the most significant advantages of a TFSA is its flexibility. Unlike an RRSP, you can use a TFSA to
save for anything you like – from a down payment on a home to a dream vacation. Depending on your income level, it may even be a more effective way to save for retirement than opening an RRSP.
The other advantage of a TFSA is right in the name – it's a tax-free way to save, invest, and earn money. With a TFSA, you don't have to look at any interest or dividends you earn and then wonder how high your tax bill will be – because all your earnings are tax-free!
Limitations
These are the main TFSA limitations:
Some investments are prohibited or do not qualify – for example, you can't hold shares of a company that you
have a significant interest in (10% or more).

If you over-contribute to your TFSA, you'll be charged a penalty of one percent per month on the amount over
the limit until you remove it.
TFSA Contribution Limits By Year
The TFSA contribution limits by year are as follows:
From 2009 to 2012, it was $5,000.

From 2013 and 2014, it was $5,500.

From 2015, it was $10,000.

From 2016 to 2018, it was $5,500.

From 2019 to 2021, it was $6,000.

For 2022, it is $6,000.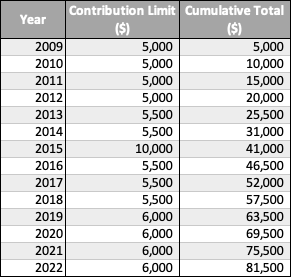 Want to learn more about TFSAs? Reach out to us today if you'd like to learn more about what TFSAs can do for you!
https://lssmith.ca/wp-content/uploads/2022/01/tfsaFeaturedImage.jpeg
281
500
LS Smith & Associates
https://lssmith.ca/wp-content/uploads/2018/05/lsSmithLogo.jpg
LS Smith & Associates
2022-01-10 12:57:01
2022-01-10 13:00:07
What is a Tax-Free Savings Account? 2022